Catechism 9:30, Confessions 10:15, Rosary 10:35, High Mass 11:00, Holy Face devotion in church after Mass, Fellowship Meal downstairs in Enright Hall (Davenport)
Confessions 2:10, High Mass 2:30, Catechism 4:00 in Social Hall (Iowa City)
"Today, if you hear His voice harden not your hearts"
During the preceding four weeks, we have noticed how the malice of Jesus' enemies has been gradually increasing. His very presence irritates them; and it is evident that any little circumstance will suffice to bring the deep and long-nurtured hatred to a head. The kind and gentle manners of Jesus are drawing to Him all hearts that are simple and upright; at the same time, the humble life He leads, and the humble life He leads, and the stern purity of His doctrines, are perpetual sources of vexation and anger, both to the proud Jew that looks forward to the Messias being a mighty conqueror, and to the Pharisee, who corrupts the Law of God, that he may make it the instrument of his own base passions. Still, Jesus goes on working miracles; His discourses are more than ever energetic; His prophecies foretell the fall of Jerusalem, and such a destruction of its famous temple, that not a stone is to be left on a stone. The doctors of the Law should, at least, reflect upon what they hear; they should examine these wonderful works, which render such strong testimony in favor of the Son of David; and they should consult those divine prophecies which, up to the present time, have been so literally fulfilled in His person. Alas, they themselves are about to carry them out to the very last iota. There is not a single outrage or suffering foretold by David and Isaias, as having to be put upon the Messias, which these blind men are not scheming to verify.
Whilst, therefore, we listen to the history of the Passion in the Gospel, let us turn the indignation which we feel for the Jews against ourselves and our own sins; let us weep over the sufferings of our Victim, for our sins caused Him to suffer and die.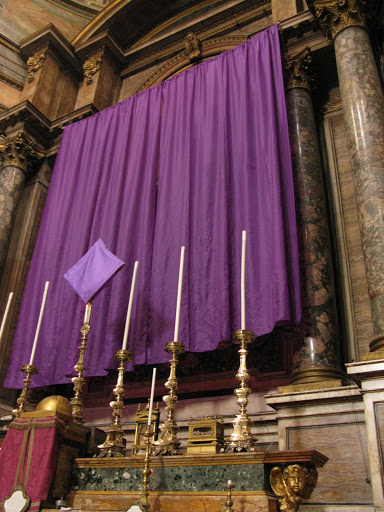 Everything around us urges us to mourn. The images of the Saints, the very Crucifix on our altar, are veiled from our sight. The Church is oppressed with grief. During the first four weeks of Lent, She compassionated Her Jesus fasting in the desert; His coming sufferings and crucifixion and death are what now fill Her with anguish. We read in today's Gospel, that the Jews threaten to stone the Son of God as a blasphemer: but His hour is not yet come. He is obliged to flee and hide Himself, that He may evade the anger of men—what a mystery! Is it weakness? Is it that He fears death? No; we shall soon see Him going out to meet His enemies: but at present He hides Himself from them, because all that had been prophesied regarding Him has not been fulfilled. Besides, His death is not to be by stoning: He is to die upon a cross, the tree of malediction, which, from that time forward, is to be the tree of life. Let us humble ourselves, as we see the Creator of Heaven and earth thus obliged to hide Himself from men, who are bent on His destruction! Let us go back in thought to the sad day of the first sin, when Adam and Eve hid themselves because a guilty conscience told them they were naked. Jesus has come to assure us of our being pardoned, and lo! He hides Himself, not because He is naked—He that is to the Saints the garb of holiness and immortality—but because He made Himself weak, that He might make us strong. Our first parents sought to hide themselves from the sight of God; Jesus hides Himself from the eyes of men. But it will not be thus forever. The day will come when sinners, from whose anger He now flees, will pray to the mountains to fall on them and shield them from His gaze; but their prayer will not be granted, and they shall see the Son of Man coming in the clouds of Heaven, with much power and majesty (Matt. 24: 30).
This Sunday, therefore, is called Passion Sunday, because the Church begins, on this day, to make the sufferings of our Redeemer Her chief thought.